| | |
| --- | --- |
| | |
The Royal Opera House: Don Giovanni
()
11/10/2019
Erwin Schrott, Roberto Tagliavini
- 3 hr. 30 mins.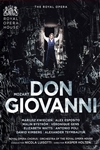 Sexual intrigue, jealousy, wit, anger... and retribution! The new Royal Opera Season begins with Mozart's engaging masterpiece, which follows Don Giovanni, the women he serially seduces, and the vengeance that finally catches up with him. The opera is renowned for its ever-shifting portrayals of complex characters, fast-moving action and mix of the comic and the heartfelt. A cast of international singers - both familiar and making Royal Opera debuts - under conductor Hartmut Haenchen perform the glorious arias and ensembles of this opera favourite.
Official Site
Trailer
---
The Royal Opera House: Don Pasquale
()
12/29/2019
Bryn Terfel, Olga Peretyatko
- 3 hr. 30 mins.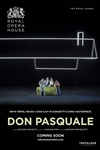 Royal Opera favourite Bryn Terfel heads the cast for this new production of Donizetti's comedyof domestic drama across two generations. The witty story of a middle-aged man whosesupposed young wife runs rings around him - with her own ulterior romantic purpose in mind - has long delighted and surprised audiences, not least as presented with the sparkle of its music and the virtuoso skill of its performers. Damiano Michieletto's exhilarating production shows how contemporary the characters still are and how immediate and touching the story remains.
Official Site
Trailer
---
Royal Opera House: Concerto / Enigma Variations /
()
1/12/2020
- From The Royal Ballet's classical origins in the works of Petipa, to the home-grown choreographers who put British ballet on the world stage, this mixed programme highlights the versatility of the Company. Petipa's Raymonda Act III is Russian classical ballet summarized in one act, full of sparkle and precise technique, while Ashton's Enigma Variations is quintessentially British in every way from its score by Elgar and period designs by Julia Trevelyan Oman, to Ashton's signature style, the essence of British ballet. Concerto, MacMillan's fusion of classical technique with a contemporary mind, completes a programme that shows the breadth of the Company's heritage.
Official Site
Trailer
---