Kew Gardens Cinemas
81-05 Lefferts Boulevard
Kew Gardens, NY 11415 United States
Movie info (718) 441-9835
Dear White People
(R)
Rated for language, sexual content and drug use

Kyle Gallner, Dennis Haysbert
- 1 hr. 48 mins.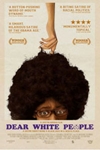 The unexpected election of activist Samantha White as head of a traditionally black residence hall sets up a college campus culture war that challenges conventional notions of what it means to be black. While Sam leverages her notoriety as host of the provocative and polarizing radio show "Dear White People" to try to prevent the college from diversifying Armstrong Parker House, outgoing head-of-house Troy Fairbanks, son of the university's dean, defies his father's lofty expectations by applying to join the staff of Pastiche, the college's influential humor magazine. Lionel Higgins, an Afro-sporting sci-fi geek, is recruited by the otherwise all-white student newspaper to go undercover and write about black culture-a subject he knows little about-while the aggressively assimilated Coco Conners tries to use the controversy on campus to carve out a career in reality TV. But no one at Winchester University is prepared for Pastiche's outrageous, ill-conceived annual Halloween party, with its "unleash your inner Negro" theme throwing oil on an already smoldering fire of resentment and misunderstanding. When the party descends into riotous mayhem, everyone must choose a side.
Official Site
Trailer
---
Kill the Messenger
(R)
Rated for language and drug content

Jeremy Renner, Rosemarie DeWitt
- 1 hr. 52 mins.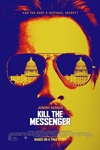 This is a dramatic thriller based on the remarkable true story of Pulitzer Prize-winning journalist Gary Webb. Webb stumbles onto a story which leads to the shady origins of the men who started the crack epidemic on the nation's streets...and further alleges that the CIA was aware of major dealers who were smuggling cocaine into the U.S., and using the profits to arm rebels fighting in Nicaragua. Despite warnings from drug kingpins and CIA operatives to stop his investigation, Webb keeps digging to uncover a conspiracy with explosive implications. His journey takes him from the prisons of California to the villages of Nicaragua to the highest corridors of power in Washington, D.C. - and draws the kind of attention that threatens not just his career, but his family and his life.
Official Site
Trailer
---
Men, Women & Children
(R)
Rated for strong sexual content including graphic dialogue throughout-some involving teens, and for language

Ansel Elgort, Judy Greer
- 1 hr. 46 mins.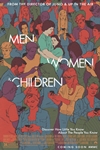 This film follows the story of a group of high school teenagers and their parents as they attempt to navigate the many ways the internet has changed their relationships, their communication, their self-image, and their love lives. The film attempts to stare down social issues such as video game culture, anorexia, infidelity, fame hunting, and the proliferation of illicit material on the internet. As each character and each relationship is tested, we are shown the variety of roads people choose - some tragic, some hopeful - as it becomes clear that no one is immune to this enormous social change that has come through our phones, our tablets, and our computers.
Official Site
Trailer
---
The Equalizer
(R)
Rated for strong bloody violence and language throughout, including some sexual references

Chloe Grace Moretz, Denzel Washington
- 2 hr. 11 mins.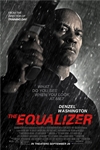 McCall is a former black ops commando who has faked his death to live a quiet life in Boston. When he comes out of his self-imposed retirement to rescue a young girl, Teri, he finds himself face to face with ultra-violent Russian gangsters. As he serves vengeance against those who brutalize the helpless, McCall's desire for justice is reawakened. If someone has a problem, the odds are stacked against them, and they have nowhere else to turn, McCall will help. He is The Equalizer.
Official Site
Trailer
---
Pride
(R)
Rated for language and brief sexual content

Bill Nighy, Andrew Scott
- 2 hr. 0 mins.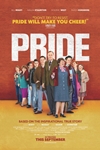 This film is inspired by an extraordinary true story. It's the summer of 1984, Margaret Thatcher is in power and the National Union of Mineworkers is on strike, prompting a London-based group of gay and lesbian activists to raise money to support the strikers' families. Initially rebuffed by the Union, the group identifies a tiny mining village in Wales and sets off to make their donation in person. As the strike drags on, the two groups discover that standing together makes for the strongest union of all.
Official Site
Trailer
---
This Is Where I Leave You
(R)
Rated for language, sexual content and some drug use

Tina Fey, Jason Bateman
- 1 hr. 43 mins.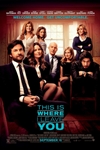 The Altman family doesn't get along, and they haven't all been together in years. But when the patriarch dies, the whole clan is expected to fulfill his final wish and sit Shiva for him for an entire week. Now newly divorced, newly jobless Judd Altman has to travel home to face his dysfunctional family, including his hot-to-trot psychiatrist mom, his sarcastic older brother, his unhappy sister and his too-perfect younger brother in an effort to see if family bonds will prevent them from killing one another.
Official Site
Trailer
---
The Skeleton Twins
(R)
Rated for language, some sexuality and drug use

Kristen Wiig, Bill Hader
- 1 hr. 28 mins.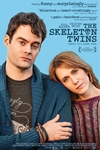 Estranged twins Maggie and Milo coincidentally cheat death on the same day, prompting them to reunite and confront the reasons their lives went so wrong. As the twins' reunion reinvigorates them, they realize the key to fixing their lives may just lie in repairing their relationship.
Official Site
Trailer
---
My Old Lady
(PG-13)
Rated for thematic material and some sexual references

Kevin Kline, Maggie Smith
- 1 hr. 47 mins.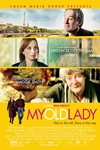 Mathias inherits a Parisian apartment from his estranged father. But when he arrives in France to sell it, he discovers a tenant who is not prepared to budge. His apartment is a viager - an ancient French real estate system with complex rules about its resale - and feisty Mathilde, who has lived there with her daughter Chloé for years, can by contract collect payments from Mathias until her death. With no place to go, Mathias stays with Mathilde, instantly clashing with Chloé over his dealings with a property developer who wants the apartment. However, Mathias and Chloé discover a common ground of childhood pain and neglect. As they grow closer, Mathilde unveils a complex labyrinth of secrets that unites the trio in unexpected ways.
Official Site
Trailer
---
National Theatre Live: Skylight
(NR)
Carey Mulligan, Bill Nighy
- 3 hr. 0 mins.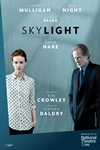 Bill Nighy and Carey Mulligan feature in the highly anticipated production of David Hare's Skylight, directed by Stephen Daldry, broadcast live from the West End by National Theatre Live.
On a bitterly cold London evening, schoolteacher Kyra Hollis (Carey Mulligan) receives an unexpected visit from her former lover, Tom Sergeant (Bill Nighy), a successful and charismatic restaurateur whose wife has recently died.
As the evening progresses, the two attempt to rekindle their once passionate relationship only to find themselves locked in a dangerous battle of opposing ideologies and mutual desires.
Official Site
Trailer
---