Kew Gardens Cinemas
81-05 Lefferts Boulevard
Kew Gardens, NY 11415 United States
Movie info (718) 441-9835
The Homesman
(R)
Rated for violence, sexual content, some disturbing behavior and nudity

Tommy Lee Jones, Hilary Swank
- 2 hr. 2 mins.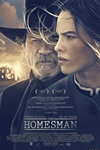 When three women living on the edge of the American frontier are driven mad by harsh pioneer life, the task of saving them falls to the pious, independent-minded Mary Bee Cuddy. Transporting the women by covered wagon to Iowa, she soon realizes just how daunting the journey will be, and employs a low-life drifter, George Briggs, to join her. The unlikely pair and the three women head east, where a waiting minister and his wife have offered to take the women in. But the group first must traverse the harsh Nebraska Territories marked by stark beauty, psychological peril and constant threat
Official Site
Trailer
---
Rosewater
(R)
Rated for language including some crude references, and violent content

Gael García Bernal, Kim Bodnia
- 1 hr. 43 mins.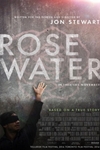 This film follows the Tehran-born Bahari, a 42-year-old broadcast journalist with Canadian citizenship living in London. In June 2009, Bahari returned to Iran to interview Mir-Hossein Moussavi, who was the prime challenger to controversial incumbent president Mahmoud Ahmadinejad. As Moussavi's supporters rose up to protest Ahmadinejad's victory declaration hours before the polls closed on election day, Bahari endured great personal risk by submitting camera footage of the unfolding street riots to the BBC. Bahari was soon arrested by Revolutionary Guard police, led by a man identifying himself only as "Rosewater," who proceeded to torture and interrogate the journalist over the next 118 days.
Official Site
Trailer
---
Elsa & Fred
(PG-13)
Rated for brief strong language

Christopher Plummer, Marcia Gay Harden
- 1 hr. 33 mins.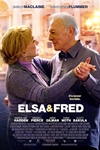 This is the story of two people who, at the end of the road, discover that it's never too late to love. After losing his wife, Fred feels disturbed, confused and alone, so his daughter helps move him into a nearby apartment building where he meets Elsa. From that moment on, everything changes. Elsa bursts into Fred's life like a whirlwind, determined to teach him that time is precious and that he should enjoy life-and love-to the fullest.
Official Site
Trailer
---
The Theory of Everything
(PG-13)
Rated for some thematic elements and suggestive material

Eddie Redmayne, Felicity Jones
- 2 hr. 3 mins.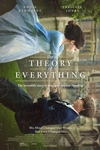 This is the extraordinary story of one of the world's greatest living minds, the renowned astrophysicist Stephen Hawking, who falls deeply in love with fellow Cambridge student Jane Wilde. Once a healthy, active young man, Hawking received an earth-shattering diagnosis at 21 years of age. With Jane fighting tirelessly by his side, Stephen embarks on his most ambitious scientific work, studying the very thing he now has precious little of - time. Together, they defy impossible odds, breaking new ground in medicine and science, and achieving more than they could ever have dreamed
Official Site
Trailer
---
Birdman
(R)
Rated for language throughout, some sexual content and brief violence

Michael Keaton, Zach Galifianakis
- 1 hr. 59 mins.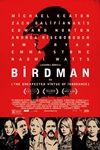 This film is a black comedy that tells the story of an actor - famous for portraying an iconic superhero-as he struggles to mount a Broadway play. In the days leading up to opening night, he battles his ego and attempts to recover his family, his career, and himself.
Official Site
Trailer
---
St. Vincent
(PG-13)
Rated for mature thematic material including sexual content, alcohol and tobacco use, and for language

Melissa McCarthy, Bill Murray
- 1 hr. 43 mins.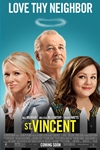 Maggie, a single mother, moves into a new home in Brooklyn with her 12-year old son, Oliver. Forced to work long hours, she has no choice but to leave Oliver in the care of their new neighbor, Vincent, a retired curmudgeon with a penchant for alcohol and gambling. An odd friendship soon blossoms between the improbable pair. Together with a pregnant stripper named Daka, Vincent brings Oliver along on all the stops that make up his daily routine - the race track, a strip club, and the local dive bar. Vincent helps Oliver grow to become a man, while Oliver begins to see in Vincent something that no one else is able to: a misunderstood man with a good heart.
Official Site
Trailer
---
Whiplash
(R)
Rated for strong language including some sexual references

Miles Teller, J.K. Simmons
- 1 hr. 45 mins.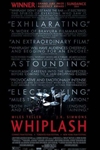 Andrew Neyman is an ambitious young jazz drummer, single-minded in his pursuit to rise to the top of his elite east coast music conservatory. Plagued by the failed writing career of his father, Andrew hungers day and night to become one of the greats. Terence Fletcher, an instructor equally known for his teaching talents as for his terrifying methods, leads the top jazz ensemble in the school. Fletcher discovers Andrew and transfers the aspiring drummer into his band, forever changing the young man's life. Andrew's passion to achieve perfection quickly spirals into obsession, as his ruthless teacher continues to push him to the brink of both his ability-and his sanity.
Official Site
Trailer
---