The Royal Opera House: Manon Lescaut
(NR)
Antonio Pappano, Kristine Opolais
-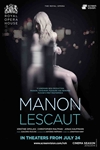 This early Puccini masterpiece makes a welcome return to Covent Garden after an absence of over 20 years, in a new production by Jonathan Kent under the baton of Music Director Antonio Pappano. The exciting Latvian soprano Kristine Opolais sings the title role. A consummate Puccini soprano, Opolais caused a sensation as Madama Butterfly in 2011, and with Manon Lescaut, the bold but impressionable heroine, we will see a very different side of her character. She is matched in star power by Jonas Kaufmann as her lover, Des Grieux, and Christopher Maltman as her cynical brother Lescaut. This is a much anticipated new production, and Kent's vision of a young girl who faces temptation in the big city will surely resonate with today's audience.
Official Site
Trailer
---
America: Imagine the World Without Her
(PG-13)
Rated for some violent images

Dinesh D'Souza, John Sullivan
- 1 hr. 43 mins.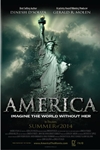 Someone once observed: "America is great because she is good; if she ever ceases to be good she will cease to be great." Today that notion of the essential goodness of America is under attack, replaced by another story in which theft and plunder are seen as the defining features of American history - from the theft of Native American and Mexican lands and the exploitation of African labor to a contemporary foreign policy said to be based on stealing oil and a capitalist system that robs people of their "fair share".
Our founding fathers warned us that, although the freedoms they gave us were hard fought, they could very easily be lost. America stands at a crossroads, and the way we understand our past will determine our future. The movie takes 21st-century Americans into the future by first visiting our past.
Official Site
Trailer
---
Begin Again
(R)
Rated for language

Keira Knightley, Mark Ruffalo
- 1 hr. 41 mins.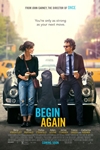 This is a soul-stirring comedy about what happens when lost souls meet and make beautiful music together. Gretta and her long-time boyfriend Dave are college sweethearts and songwriting partners who decamp for New York when he lands a deal with a major label. But the trappings of his new-found fame soon tempt Dave to stray, and a reeling, lovelorn Gretta is left on her own. Her world takes a turn for the better when Dan, a disgraced record-label exec, stumbles upon her performing on an East Village stage and is immediately captivated by her raw talent. From this chance encounter emerges an enchanting portrait of a mutually transformative collaboration, set to the soundtrack of a summer in New York City.
Official Site
Trailer
---
Jersey Boys
(R)
Rated for language thoughout

Christopher Walken, Vincent Piazza
- 2 hr. 14 mins.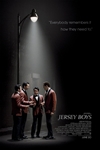 The film tells the story of four young men from the wrong side of the tracks in New Jersey who came together to form the iconic 1960s rock group The Four Seasons. The story of their trials and triumphs are accompanied by the songs that influenced a generation, including "Sherry," "Big Girls Don't Cry," "Walk Like a Man," "Dawn," "Rag Doll," "Bye Bye Baby," "Who Loves You," and many more.
Official Site
Trailer
---
Third Person
(R)
Rated for language and some sexuality/nudity

Liam Neeson, Mila Kunis
- 2 hr. 10 mins.
Three couples in three cities find love and heartbreak in three interlocking stories. A married writer and a single girl sadistically toy with each other in Paris, a corporate thief on the run from the law meets a beautiful gypsy woman in Rome and a failed soap star wages a custody battle for the son she endangered in New York.
Official Site
Trailer
---
The Fault in Our Stars
(PG-13)
Rated for thematic elements, some sexuality and brief strong language

Shailene Woodley, Ansel Elgort
- 2 hr. 5 mins.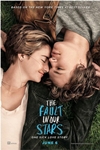 Hazel and Gus are two extraordinary teenagers who share an acerbic wit, a disdain for the conventional, and a love that sweeps them - and us - on an unforgettable journey. Their relationship is all the more miraculous, given that they met and fell in love at a cancer support group.
Official Site
Trailer
---
Obvious Child
(R)
Rated for language and sexual content

Jenny Slate, Jake Lacy
- 1 hr. 23 mins.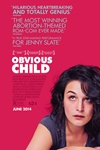 For aspiring comedian Donna Stern, everyday life as a female twenty-something provides ample material for her incredibly relatable brand of humor. On stage, Donna is unapologetically herself, joking about topics as intimate as her sex life and as crude as her day-old underwear. But when Donna gets dumped, loses her job, and finds herself pregnant just in time for Valentine's Day, she has to navigate the murky waters of independent adulthood for the first time. As she grapples with an uncertain financial future, an unwanted pregnancy, and a surprising new suitor, Donna begins to discover that the most terrifying thing about adulthood isn't facing it all on her own. It's allowing herself to accept the support and love of others. And be truly vulnerable. Never failing to find the comedy and humanity in each awkward situation she encounters, Donna finds out along the way what it means to be as brave in life as she is on stage. Anchored by a breakout performance from Jenny Slate, OBVIOUS CHILD is a winning discovery, packed tight with raw, energetic comedy and moments of poignant human honesty. Writer/Director Gillian Robespierre handles the topic of Donna's unwanted pregnancy with a refreshing matter-of-factness rarely seen onscreen.
Official Site
Trailer
---
Chef
(R)
Rated for language, including some suggestive referneces

Jon Favreau, Sofia Vergara
- 1 hr. 55 mins.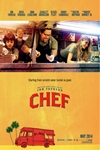 Chef Carl Casper suddenly quits his job at a prominent Los Angeles restaurant after refusing to compromise his creative integrity for its controlling owner, he is left to figure out what's next. Finding himself in Miami, he teams up with his ex-wife, his friend and his son to launch a food truck. Taking to the road, Chef Carl goes back to his roots to reignite his passion for the kitchen -- and zest for life and love.
Official Site
Trailer
---
Belle
(PG)
Rated for thematic elements, some language and brief smoking images

Gubu Mbatha-Raw, Tom Wilkinson
- 1 hr. 45 mins.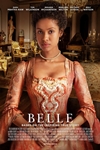 This film is inspired by the true story of Dido Elizabeth Belle, the illegitimate mixed race daughter of Admiral Sir John Lindsay. Raised by her aristocratic great-uncle Lord Mansfield and his wife, Belle's lineage affords her certain privileges, yet her status prevents her from the traditions of noble social standing. While her cousin Elizabeth chases suitors for marriage, Belle is left on the sidelines wondering if she will ever find love. After meeting an idealistic young vicar's son bent on changing society, he and Belle help shape Lord Mansfield's role as Lord Chief Justice to end slavery in England.
Official Site
Trailer
---