The Dead Don't Die
(R)
Rated for zombie violence/gore, and for language

Bill Murray, Adam Driver
- 1 hr. 43 mins.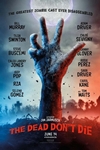 The peaceful town of Centerville is faced with a horde of zombies as the dead begin to come out of their graves.
Official Site
Trailer
---
Late Night
(R)
Rated for language throughout and some sexual references

Emma Thompson, Mindy Kaling
- 1 hr. 42 mins.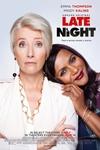 Emma Thompson plays Katherine Newbury, who is a legendary late-night talk show host, whose world is turned upside down when she hires her only female staff writer played by Kaling. Originally intended to smooth over diversity concerns, her decision has unexpectedly hilarious consequences as two women separated by culture and generation are united by their love of a biting punchline.
Official Site
Trailer
---
The Secret Life of Pets 2
(PG)
Rated for some action and rude humor

Kevin Hart, Jenny Slate
- 1 hr. 26 mins.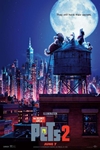 Terrier Max is coping with some major life changes. His owner is now married and has a toddler, Liam. Max is so worried about protecting the boy that he develops a nervous tic. On a family trip to a farm, Max and mutt Duke encounter canine-intolerant cows, hostile foxes and a terrifying turkey, all of which only elevates Max's anxiety. Luckily, Max gets some guidance from veteran farm dog Rooster, who pushes Max to ditch his neuroses, find his inner alpha, and give Liam a little more freedom.
Official Site
Trailer
---
Rocketman
(R)
Rated for language throughout, some drug use and sexual content

Taron Egerton, Jamie Bell
- 2 hr. 1 mins.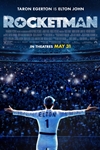 ROCKETMAN is an epic musical fantasy about the incredible human story of Elton John's breakthrough years. The film follows the fantastical journey of transformation from shy piano prodigy Reginald Dwight into international superstar Elton John. This inspirational story - set to Elton John's most beloved songs and performed by star Taron Egerton - tells the universally relatable story of how a small-town boy became one of the most iconic figures in pop culture. ROCKETMAN also stars Jamie Bell as Elton's longtime lyricist and writing partner Bernie Taupin, Richard Madden as Elton's first manager, John Reid, and Bryce Dallas Howard as Elton's mother Sheila Farebrother.
Official Site
Trailer
---
Aladdin
(PG)
Rated for some action/peril

Will Smith, Mena Massoud
- 2 hr. 8 mins.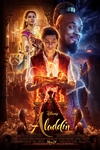 "Aladdin" is the exciting tale of the charming street rat Aladdin, the courageous and self-determined Princess Jasmine and the Genie who may be the key to their future.
Official Site
Trailer
---
Booksmart
(R)
Rated for strong sexual content and language throughout, drug use and drinking - all involving teens

Kaitlyn Dever, Beanie Feldstein
- 1 hr. 42 mins.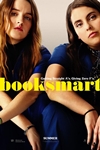 The story follows Dever and Feldstein's characters, two academic superstars and best friends who, on the eve of their high school graduation, suddenly realize that they should have worked less and played more. Determined never to fall short of their peers, the girls set out on a mission to cram four years of fun into one night.
Official Site
Trailer
---
Echo In the Canyon
(PG-13)
Rated for drug references and some suggestive content

Lou Adler, Beck
- 1 hr. 22 mins.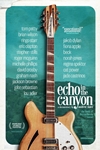 Echo In The Canyon celebrates the explosion of popular music that came out of LA's Laurel Canyon in the mid-60s as folk went electric and The Byrds, The Beach Boys, Buffalo Springfield and The Mamas and the Papas gave birth to the California Sound. It was a moment (1965 to 1967) when bands came to LA to emulate The Beatles and Laurel Canyon emerged as a hotbed of creativity and collaboration for a new generation of musicians who would soon put an indelible stamp on the history of American popular music.
Official Site
Trailer
---