Kew Gardens Cinemas
81-05 Lefferts Boulevard
Kew Gardens, NY 11415 United States
Movie info (718) 441-9835
The Book of Henry
(PG-13)
Rated for thematic elements and brief strong language

Naomi Watts, Lee Pace
- 1 hr. 45 mins.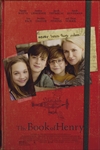 Sometimes things are not always what they seem, especially in the small suburban town where the Carpenter family lives. Single suburban mother Susan Carpenter works as a waitress at a diner, alongside feisty family friend Sheila. Her younger son Peter is a playful 8-year-old. Taking care of everyone and everything in his own unique way is Susan's older son Henry, age 11. Protector to his adoring younger brother and tireless supporter of his often self-doubting mother - and, through investments, of the family as a whole - Henry blazes through the days like a comet. Susan discovers that the family next door, which includes Henry's kind classmate Christina, has a dangerous secret - and that Henry has devised a surprising plan to help. As his brainstormed rescue plan for Christina takes shape in thrilling ways, Susan finds herself at the center of it.
Official Site
Trailer
---
Cars 3
(G)
Armie Hammer, Nathan Fillion
- 1 hr. 49 mins.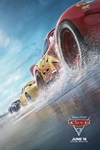 Blindsided by a new generation of blazing-fast racers, the legendary Lightning McQueen (voice of Owen Wilson) is suddenly pushed out of the sport he loves. To get back in the game, he will need the help of an eager young race technician, Cruz Ramirez (voice of Cristela Alonzo), with her own plan to win, plus inspiration from the late Fabulous Hudson Hornet and a few unexpected turns. Proving that #95 isn't through yet will test the heart of a champion on Piston Cup Racing's biggest stage!
Official Site
Trailer
---
The Journey
(PG-13)
Rated for thematic elements including violent images and language

Timothy Spall, Colm Meaney
- 1 hr. 34 mins.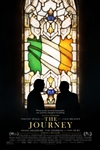 \The Journey is the gripping account of how two men from opposite sides of the political spectrum came together to change the course of history. In 2006, amidst the ongoing, decades-long conflict in Northern Ireland, representatives from the two warring factions meet for negotiations. In one corner is Ian Paisley (Timothy Spall), the deeply conservative British loyalist; in the other is Martin McGuinness (Colm Meaney), a former Irish Republican Army leader who has devoted his life to the cause of Irish reunification. Opposites in every way, the two men at first seem to have little chance of ever finding common ground. But over the course of an impromptu, detour-filled car ride through the Scottish countryside, each begins to see the other less as an enemy, and more as an individual—a breakthrough that promises to at last bring peace to the troubled region. Driven by two virtuoso central performances, The Journey is a more-relevant-than-ever reminder of how simple humanity can overcome political division. John Hurt costars.
Official Site
Trailer
---
Beatriz at Dinner
(R)
Rated for language and a scene of violence

Salma Hayek, John Lithgow
- 1 hr. 23 mins.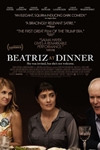 Beatriz, an immigrant from a poor town in Mexico, has drawn on her innate kindness to build a career as a health practitioner in Southern California. Don Strutt is a real estate developer whose cutthroat tactics have made him a self-made, self-satisfied billionaire. When these two polar opposites meet at a dinner party, their worlds collide and neither will ever be the same.
Official Site
Trailer
---
The Hero
(R)
Rated for drug use, language and some

Krysten Ritter, Laura Prepon
- 1 hr. 33 mins.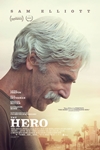 Lee Hayden is an aging Western icon with a golden voice, but his best performances are decades behind him. He spends his days reliving old glories and smoking too much weed with his former-co-star-turned-dealer, Jeremy, until a surprise cancer diagnosis brings his priorities into sharp focus. He soon strikes up an exciting, contentious relationship with stand-up comic Charlotte, and he attempts to reconnect with his estranged daughter, Lucy, all while searching for one final role to cement his legacy.
Official Site
Trailer
---
The Exception
(R)
Rated for sexuality, graphic nudity, language and brief violence

Lily James, Jai Courtney
- 1 hr. 47 mins.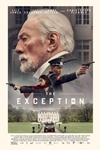 The Exception concentrates on these last years in the life of Wilhelm. Living in a rambling country mansion with his wife, Princess Hermine, and a small retinue of aides and servants, the erstwhile emperor is given a new lease on life by the Nazi invasion of France and the Lowlands, which sees Holland fall under German subjugation. Fantasizing about a return to Berlin and the throne, Wilhelm soon finds himself under the supervision of an SS captain and a detachment of German soldiers. Meanwhile, the Kaiser's entourage hires a new maid, in whom the captain takes an immediate interest. The stage is set for a story of subterfuge and espionage, all of which comes to a head with a visit from Heinrich Himmler, head of the SS.
Official Site
Trailer
---
The Women's Balcony (Ismach Hatani)
(NR)
Orna Banai, Evelin Hagoel
- 1 hr. 36 mins.
An accident during a bar mitzvah celebration leads to a gendered rift in a devout Orthodox community in Jerusalem, in this rousing, good-hearted tale about women speaking truth to patriarchal power.
Official Site
Trailer
---