Book Club
(PG-13)
Rated for sex-related material throughout and for language

Diane Keaton, Jane Fonda
- 1 hr. 44 mins.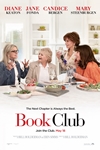 Diane (Diane Keaton) is recently widowed after 40 years of marriage. Vivian (Jane Fonda) enjoys her men with no strings attached. Sharon (Candice Bergen) is still working through a decades-old divorce. Carol's (Mary Steenburgen) marriage is in a slump after 35 years.
Four lifelong friends' lives are turned upside down to hilarious ends when their book club tackles the infamous Fifty Shades of Grey. From discovering new romance to rekindling old flames, they inspire each other to make their next chapter the best chapter.
Official Site
Trailer
---
Pope Francis - A Man Of His Word
(PG)
Rated for thematic material including images of suffering.

Pope Francis
- 1 hr. 36 mins.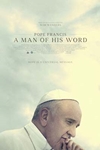 Wim Wenders' new documentary, Pope Francis - A Man of His Word, is intended to be a personal journey with Pope Francis, rather than a biographical documentary about him. The pope's ideas and his message are central to this documentary, which sets out to present his work of reform and his answers to today's global questions. From his deep concern for the poor and wealth inequality, to his involvement in environmental issues and social justice, Pope Francis engages the audience face-to-face and calls for peace.
Official Site
Trailer
---
Beast
(R)
Rated for disturbing violent content, language and some sexuality

Jessie Buckley, Johnny Flynn
- 1 hr. 47 mins.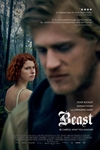 Moll (Jessie Buckley, TABOO, WAR AND PEACE) is 27 and still living at home, stifled by the small island community around her and too beholden to her family to break away. When she meets Pascal, a free-spirited stranger, a whole new world opens up to her and she begins to feel alive for the first time, falling madly in love. Finally breaking free from her family, Moll moves in with Pascal (Johnny Flynn, CLOUDS OF SILS MARIA) to start a new life. But when he is arrested as the key suspect in a series of brutal murders, she is left isolated and afraid. Choosing to stand with him against the suspicions of the community, Moll finds herself forced to make choices that will impact her life forever.
Official Site
Trailer
---
RBG
(PG)
Rated for some thematic elements and language

Ruth Bader Ginsburg, Jane Ginsburg
- 1 hr. 37 mins.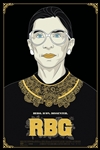 At the age of 84, U.S. Supreme Court Justice Ruth Bader Ginsburg has developed a breathtaking legal legacy while becoming an unexpected pop culture icon. But without a definitive Ginsburg biography, the unique personal journey of this diminutive, quiet warrior's rise to the nation's highest court has been largely unknown, even to some of her biggest fans - until now.
Official Site
Trailer
---
Disobedience
(R)
Rated for some strong sexuality

Rachel McAdams, Rachel Weisz
- 1 hr. 54 mins.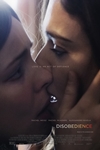 From a screenplay by Lelio and Rebecca Lenkiewicz, the film follows a woman as she returns from New York after the death of her estranged rabbi father to the Orthodox Jewish community in North London where she grew up. Once back at home, she stirs up controversy when she shows an interest in a childhood friend. The film stars Rachel Weisz, Rachel McAdams and Alessandro Nivola.
Official Site
Trailer
---
Let the Sunshine In (Un Beau Soleil Intérieur)
()
Juliette Binoche, Xavier Beauvois
- 1 hr. 34 mins.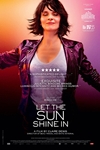 Juliette Binoche delivers a luminous performance in the deliciously witty, sensuously romantic new film from acclaimed director Claire Denis (White Material). Isabelle (Binoche) is a divorced Parisian painter searching for another shot at love, but refusing to settle for the parade of all-too-flawed men who drift in and out of her life. There's a caddish banker (Xavier Beauvois) who, like many of her lovers, happens to be married; a handsome actor (Nicolas Duvauchelle) who's working through his own hang-ups; and a sensitive fellow artist (Alex Descas) who's skittish about commitment. What reads like a standard romantic comedy premise is transformed, in the hands of master filmmaker Denis, into something altogether deeper, more poignant, and perceptive about the profound mysteries of love.
Official Site
Trailer
---
A Quiet Place
(PG-13)
Rated for terror and some bloody images

Emily Blunt, John Krasinski
- 1 hr. 30 mins.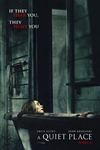 In the modern horror thriller A QUIET PLACE, a family of four must navigate their lives in silence after mysterious creatures that hunt by sound threaten their survival. If they hear you, they hunt you.
Official Site
Trailer
---
A Bag of Marbles (Un sac de billes)
(NR)
Dorian Le Clech, Batyste Fleurial
- 1 hr. 50 mins.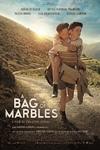 This is the true story of two young Jewish brothers in German occupied France who, with a mind-boggling mix of mischievousness, courage and ingenuity, will be forced to fend for themselves in order to survive the enemy invasion and try bring their family back together. The heartwarming adaptation of Joseph Joffo's enduring memoir tells the story of the Nazi occupation through the eyes of the two young Jewish boys. Paris, 1941: Joseph and Maurice are the sons of Roman, the local barber. At ages 10 and 12, the boys have so little understanding of the persecution of Jews that Joseph thinks nothing of swapping his yellow star for a bag of marbles. Despite their naiveté, Roman knows that their best chance to escape the Nazi roundup is to flee on their own to Vichy, France, where their older brothers Albert and Henri have found safe haven. Always one false move from tragedy, these tenacious children survive on courage, ingenuity, and more than a bit of cunning as they make their precarious way through France hoping to reunite with their family. More than anything, it's their brotherly bond that gets them through their ordeals. Patrick Bruel resonates as the Jewish family patriarch Roman, while newcomers Dorian Le Clech and Batyste Fleurial Palmieri register an almost agonizing vulnerability as hapless innocents trying to outrun the cruel machinery of war.
Official Site
Trailer
---