| | |
| --- | --- |
| | |
Bolshoi Ballet: The Sleeping Beauty
(NR)
3/10/2019
- 2 hr. 50 mins.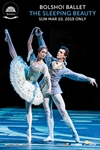 From the Bolshoi Ballet in Moscow comes resplendent fairytale ballet, The Sleeping Beauty, in cinemas nationwide Sunday, March 10 only. On her sixteenth birthday, Princess Aurora falls under the curse of the Evil Fairy Carabosse and into a deep slumber lasting one hundred years. Only the kiss of a prince can break the spell. Classical ballet at its finest, The Sleeping Beauty features scores of magical characters including fairies, the Little Red Riding Hood, Puss in Boots, and a beautiful young Princess Aurora performed by Olga Smirnova, a "truly extraordinary talent" (The Telegraph).
Official Site
Trailer
---
Bolshoi Ballet: The Golden Age
(NR)
4/7/2019
- 2 hr. 20 mins.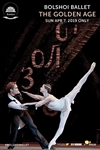 With its jazzy score by Dmitri Shostakovich and its music-hall atmosphere featuring beautiful tangos, The Golden Age is a refreshing and colorful dive into the roaring 20's. From the Bolshoi Ballet in Moscow, The Golden Age comes to cinemas nationwide on Sunday, April 7 only. In the 1920's, The Golden Age cabaret is a favorite nightly haunt. The young fisherman Boris falls in love with Rita. He follows her to the cabaret and realizes that she is the beautiful dancer "Mademoiselle Margot," but also the love interest of the local gangster Yashka. A historic ballet that can be seen only at the Bolshoi!
Official Site
Trailer
---
Bolshoi Ballet: Carmen Suite / Petrushka
()
5/19/2019
- 2 hr. 20 mins.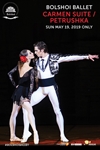 Captured live the same day from the Bolshoi Ballet in Moscow, Carmen Suite / Petrushka comes to U.S. cinemas on Sunday, June 3 only. Carmen is as sensual and free-spirited as ever as she finds herself caught in a love triangle. The passionate one-act ballet by Cuban choreographer Alberto Alonso, originally conceived for legendary Bolshoi prima ballerina Maya Plisetskaya, will captivate audiences alongside Petrushka, a new creation for the Bolshoi by contemporary choreographer Edward Clug. The double-bill event for cinemas encapsulates and showcases the soul of Russian Ballet.
Official Site
Trailer
---