Exhibition on Screen: Degas - Passion For Perfecti
()
11/18/2018
- 1 hr. 25 mins.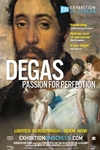 EXHIBITION ON SCREEN journeys from the streets of Paris to the heart of a superb exhibition at the Fitzwilliam Museum in Cambridge, whose extensive collection of Degas' works is the most representative in Britain. With exclusive access to view rare and diverse works, this film tells a fascinating story of Degas' pursuit for perfection through both experimentation with new techniques and lessons learnt from studying the past masters. Sometimes frustrated by his own failings, Degas was consumed by obsessive principles and failing eyesight but his determination to capture everyday life was evident in every mark he made. Never fully satisfied, many of Degas' drawings and sculptures were kept in private during his lifetime but, now through close examination, they can be seen as some of the most beautifully detailed and expressive works in the modern era.
Official Site
Trailer
---
Exhibition on Screen: Young Picasso
()
2/10/2019
- 1 hr. 25 mins.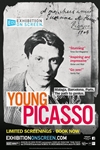 Pablo Picasso is one of the greatest artists of all time - and right up until his death in 1973 he was the most prolific of artists. Many films have dealt with these later years - the art, the affairs and the wide circle of friends. But where did this all begin? What made Picasso in the first place? Too long ignored, it is time to look at the early years of Picasso; the upbringing and the learning that led to his extraordinary achievements.
Three cities play a key role: Malaga, Barcelona and Paris. Young Picasso visits each and explores their influence on Picasso, focusing on specific artworks from these early years. The film thus explains how this young artist acquired his craft. Looking carefully at two key early periods - the so-called Blue Period and Rose Period - the film takes us all the way to 1907 and the creation of a critical painting in the history of art - Les Demoiselles d'Avignon. It was a painting that shocked the art world but changed it irrevocably. Picasso was only 25 years old. Working closely with all three Picasso Museums in Malaga, Barcelona and Paris this film explains how he rose to such great heights.
Official Site
Trailer
---
Exhibition on Screen: Rembrandt (Encore)
()
4/14/2019
- 1 hr. 35 mins.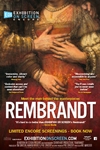 Every Rembrandt exhibition is eagerly anticipated but this major show hosted by London's National Gallery and Amsterdam's Rijksmuseum was an event like no other. Given privileged access to both galleries the film documents this landmark exhibition, whilst interweaving Rembrandt's life story, with behind-the-scenes preparations at these world famous institutions. Exploring many of the exhibition's key works, through contributions from specially invited guests including curators and leading art historians, this EXHIBITION ON SCREEN favourite makes a welcome return to the big screen marking the 350th anniversary of Rembrandt's death. For many, Rembrandt is the greatest artist that ever lived and this deeply moving film seeks to explore the truth about the man behind the legend.
Official Site
Trailer
---
Exhibition on Screen: Van Gogh & Japan
(NR)
6/9/2019
- 1 hr. 25 mins.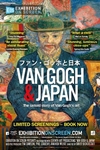 "I envy the Japanese" Van Gogh wrote to his brother Theo. In the exhibition on which this film is based - VAN GOGH & JAPAN at the Van Gogh Museum in Amsterdam - one can see why. Though Vincent van Gogh never visited Japan it is the country that had the most profound influence on him and his art. One cannot understand Van Gogh without understanding how Japanese art arrived in Paris in the middle of the 19th century and the profound impact it had on artists like Monet, Degas and, above all, Van Gogh.
Visiting the new galleries of Japanese art in Paris and then creating his own image of Japan - through in-depth research, print collecting and detailed discussions with other artists - Van Gogh's encounter with Japanese artworks gave his work a new and exciting direction. After leaving Paris for the south of France - to what he thought of as near to a kind of Japan as he could find - the productive and yet troubled years that followed must all be seen in the context of Van Gogh bending Japanese influences to his will and defining himself as a modern artist with clear Asian precursors. In this overlooked story of Van Gogh's art we see just how important his study of Japan was.
The film travels not only to France and the Netherlands but also to Japan to further explore the remarkable heritage that so affected Van Gogh and made him the artist we know of today.
Official Site
Trailer
---